Dr. Kwame Kyei is an accomplished entrepreneur and corporate executive with over 25 years of experience in the Petroleum downstream sector. Dr. Kyei is the Founder & Executive Chairman of the unity Group of Companies with its diverse interests in Oil and Gas, Media, Hospitality and Aviation. The Group has a workforce of over 4,000.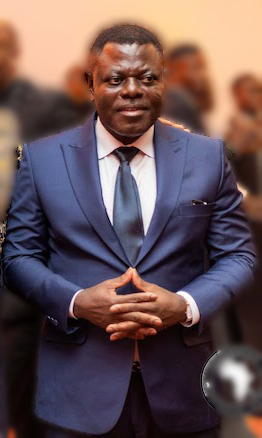 Dr. Kyei was born on the 2nd of February 1961 to parents of royal lineage from Agona Wiamoase in the Ashanti Region of Ghana. He is married to Mrs. Favour Kyei and been blessed with six children.
Dr. Kyei has always demonstrated a knack for business and entrepreneurship. He began his business establishment at Taifa in Accra from 1995 and the progress has been tremendously inspiring.
Before that time, he had worked for Bulk Oil and Storage (BOST) for three years as a transporter in the haulage of petroleum products from Taifa, Dr. Kyei became a dealer at Ghana Oil Company Limited (GOIL) and since then his business has steadily expanded.
In 2002 he was granted an Oil Marketing License by the National Petroleum Authority leading to the establishment of Unity Oil Company Ltd. The company has grown into a formidable fuel retail chain with over Forty (40) Petroleum Product Outlets across Ghana.
In the year 2006 Dr. Kyei decided to venture into the Media and Broadcasting with the establishment of Light FM Radio in Kumasi. This branch of the group now includes Light TV, Vision 1 FM, and Wisdom FM.
In 2008, Sports Hotel Ltd. And Recreational Center was launched by Dr. Kyei in Kumasi.
Dr. Kyei established Nation Services Company Limited in 2014 as a Bulk distributor of petroleum of petroleum products in Ghana.
The latest addition to the group, Unity Air is domestic private airline registered in Ghana with a regional focus in its flight destinations.
Dr. Kyei has a strong passion for sports, having played gutter to gutter football in his childhood days and part in keep fit activities and he is also known as a committed Kotoko supporter. It is therefore no surprise that Dr. Kwame Kyei was named the new Executive Board Chairman of Asante Kotoko in 2016 by His Royal Majesty Otumfour Osei Tutu II
Dr. Kyei's business acumen and entrepreneurial capabilities has been recognized both domestically and intentionally.
In the year 2010, Dr. Kyei received an Honorary Doctor of Service and Development degree from the International Ministerial Council of Europe, an affiliate of the University of Copenhagen.
He was also adjudged the Petroleum and Gas Entrepreneur of the year 2013 at the 4th Ghana Entrepreneur awards in April 2014. In 2015 Dr. Kyei received an award for business Excellence in the Oil Sector of Ghana at the West Africa Regional Magazine Business and Leadership Awards held in Lagos, Nigeria.
Dr. Kyei is also a member of the West Africa Nobles Forum.
Throughout his life Dr. Kyei has championed the cause of indigenous entrepreneurship. He believes that the Ghanaian youth must be inculcated with self-confidence, a can-do spirit and belief in their abilities to transform our economy.
The above and several other awards stand as a fitting endorsement of Dr. Kyei's exemplary and selfless leadership and his extraordinary contributions to business and development.
For the Unity Group, Dr Kyei has high hopes. In his words "I believe we have laid a firm foundation. Our aim is to expand internationally and emerge as the preferred business partner for West Africa and Beyond"